By: Evan
Projected Record: 10-6
NFC South Rank: 2nd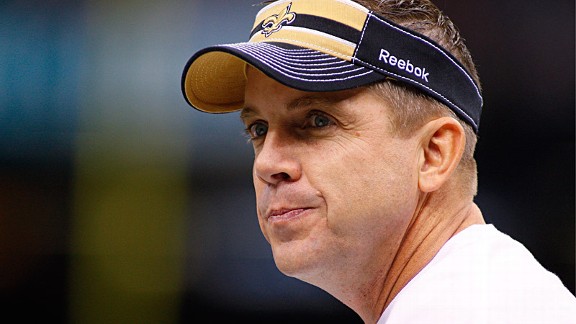 The Saints struggled last year going 8-8 and starting 0-4, showing how valuable coaches really are.  This year is different because  Payton is back to lead the Saints and Brees can go back to playing quarterback rather than QB/coach/team leader. The Saints should play the role of sleeper this year as many other analysts don't think the Saints can compete well in an extremely tough NFC.   A key acquisition was the hiring of Defensive Coordinator Rob Ryan, a defensive guru with the ability to improve sub-par defenses.  The Saints' draft was extremely impressive as safety Kenny Vaccaro, offensive lineman Terron Armstead and wide receiver Kenny Stills will significantly improve the Saints' squad in both the short and long term.  The Saints should march into the playoffs as a wild card team.
Strengths:
QB and Skill Position players
Drew Brees is an elite quarterback in the game, but at 34, time is fleeting and Brees needs to capitalize on his remaining prime years.   Brees ranked first in passing yards with 5,117 as well as touchdowns with 43.  Similar to the Falcons, the Saints have tons of weapons including the elusive Darren Sproles, star receiver Marques Colston and the best tight end in Jimmy Graham. Sproles is a threat in both the rushing and passing game, rushing for over five yards per carry and catching 75 balls with seven touchdowns in only 13 games. Although Marques Colston is now 30, he has put up very good numbers ranking 13th in receiving yards with 1,154 and tied for 7th with ten touchdowns. Obviously the most the deadly weapon is star TE Jimmy Graham who led all TEs in plays in 20 yard + plays while also scoring 9 touchdowns with 982 yards receiving. These Saints skill players are very talented and will be the keys to a playoff run.
Weaknesses:
Defense (Rushing and Passing)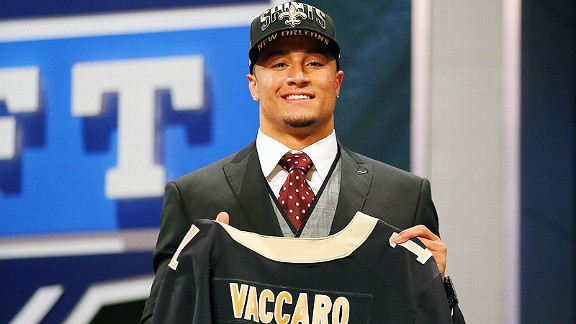 The Saints defense is weak, ranked last in rushing defense (147 yards/game), 31st in passing defense (297 yards/game), and you guessed it, last in total defense.  Rob Ryan should boost these rankings but ultimately it comes down to the players and their performance. The Saints improved their secondary by adding the best safety from college in Kenny Vaccaro, but he won't solve all of the woes.  In a pass happy NFC South, coupled with tough runners like Steven Jackson, Doug Martin and Cam Newton, opposing teams will look to pick apart the Saints' D.  Although some players such as Cameron Jordan, Curtis Lofton and rookie John Jenkins have potential, there are too many holes to fill and the spotty defense will be exploited.  When the Saints play, look out for high scoring games with the team with last possession often winning.
Schedule Analysis:
vs Atlanta- W: The Saints will be fired up and the Mercedes-Benz Superdome will be rocking as the Saints will beat the dirty birds in a preseason shootout
@ Tampa Bay-W: This should be an epic matchup between Brees and Revis with Brees eventually winning out with a game winner to Jimmy Graham
vs Arizona-L: After playing a new and improved Bucs D, Brees will have to play another tough secondary with rising star Patrick Peterson and Tyrann Mathieu. This game has upset potential and I believe it will happen.
vs Miami-W: This game also reeks of upset potential because of the offensive weapons the Dolphins have in Lamar Miller and Mike Wallace but the disparity in talent between Brees and Tannehill is large, the Saints will pull it out.
@ Chicago-W: The Bears D is tough and they do have weapons in Matt Forte, Brandon Marshall and Martellus Bennet, I trust Brees more than Cutler. Another game won by the talent of Brees.
@ New England-L: Two top-5 QBs with explosive offenses and two terrible passing defenses=lots of points. The game could go either way but since the Pats are at home, I'll pick them.
Bye Week
vs Buffalo-W: The Bills aren't great but they are not bad but again Brees>Manuel so… New Orleans it is.
@ Jets-W: I think we all know what will happen here
vs Dallas-L: After playing two below average teams, the Saints better be ready as Dallas can put up points as well. I think Dez Bryant will have a great game with over 150 yards and two TDs.
vs San Francisco-L: For the first time this season the Saints will have to play a mobile quarterback in Colin Kaepernick as well as a  terrific San Francisco defense. That defense should be able to stop Brees and allow CK7 to torch the decrepit Saints' D.
@ Atlanta-L: The Falcons will want to exact revenge for their opening game loss and will be ready and prepared. They lost 23-13 in Atlanta last year and I expect a similar result.
@Seattle-W: As tough as Seattle is at home, Brees and Co. will come in and put up points and Russell Wilson won't be able to respond. They are also coming off a three game losing streak and will need to start winning to maintain their playoff hopes.
vs Carolina-W: Cam Newton will rack up the yards both passing and rushing but the Panthers will come up short. Eventually the Panthers will overcome the Saints but not in 2013.
@ St. Louis-W: The Rams play in a tough division but the Saints are just better on offense.
@ Carolina-L: Cam strikes back as the Panthers try to spoil the Saints' playoff chances.
vs Tampa Bay-W: Doug Martin has a superb game but Josh Freeman can't keep up with Brees and the Saints clinch a playoff berth.
Conclusion:
The Saints will have to compete and win at least 10 games to make the playoffs and if they get there, they will struggle on defense and will fall in the wild card round.
Stats from ESPN