By: Evan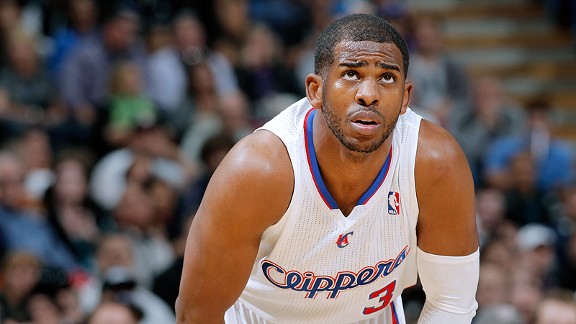 According to ESPN insider Chris Broussard Chris Paul will re-sign with the Clippers for a max deal of 5 years/107 million dollars. This deal cannot be official until July 1 when free agency starts but this is obviously huge for the Clippers. So lets look at what it means for multiple teams who were in contention for the star guard
What it means for the Clippers: Well the Clippers are now contenders for the NBA finals with the addition of Doc Rivers and the now locked up Chris Paul. This also means the end of the line for Eric Bledsoe as a Clipper. The Clippers will try to trade the valuable Bledsoe for a shooting guard, a position of need for the Clippers. The Clippers are in talks with the Magic and the Raptors for Arron Afflalo and DeMar DeRozan respectively in exchange for Bledsoe. If the Clippers could land either guard, they instantly have one of the best backcourts in the West, if not the best.
What it means for the Rockets: Now the Rockets can focus on signing Dwight Howard using their cap space. The Rockets were long-shots to sign CP3 but there was some speculation that D12 and CP3 wanted to be teammates. While that could still happen in LA via sign and trade, it seems unlikely.
What it means for the Mavericks: The Mavericks are still looking for an elite guard to lead their team through the end of the Dirk Nowitzki era. They missed out on hometown hero Deron Williams last year and it seems like they are going to miss on CP3 this year as well. The Mavericks are trying to trade with Boston for Rajon Rondo as a consolation prize but Rondo does not have the scoring ability that Paul has. The Mavs are also trying to sign Dwight Howard and Dwight was quoted as saying "I like the Mavs style of play". The Mavs have a solid chance of signing Dwight and you can read more about this in Prad's article.
What it means for the Hawks: The Hawks have a greater chance of signing Dwight Howard due to his Atlanta roots, but both have desires to play with each other and the Hawks have cap space for both if they sacrifice some. This deal won't come from fruition as it seems CP3 is going to stay in LA. The Hawks seem to be far behind in the race for any free agents this year and it might be best to rebuild and enter the Andrew Wiggins sweepstakes.