By: Evan
As March Madness approaches and the NBA playoff picture becomes clear, prospects are trying their best to impress scouts so they can hear their name called by commissioner Adam Silver. This draft class has been hyped since the summer,  and now we are starting to appreciate why franchises may be willing to "tank" for high draft picks.  It is rare to have 4-5 franchise players in the top 10, as well as other talented players projected to fall to the mid teens.  GMs have their work to do.  Here is my mock draft, which is subject to change based on draft position (#1-#21 from position standing on 3-3-14 and #22 to end from 3-13-14) and whether players will declare for the NBA draft.
1.) Milwaukee Bucks- Joel Embiid (Center- Kansas)
Why the Pick:  Joel Embiid came into his freshmen season as the mystery of the Kansas Jayhawks' recruiting class, overshadowed by the talent of Wayne Selden and Andrew Wiggins.  Now, Embiid has emerged as one of the best players in the country. Scouts  compare him to a young Hakeem Olajuwon, one of the best centers of all-time with a litany of vicious post moves that would stun defenders. Embiid has earned this comparison(http://www.youtube.com/watch?v=5Irvvb7Y4-w) and might be a better defender than Olajuwon was when he was at Houston. Embiid's numbers don't shout superstar as he only averages 11.4 ppg and 8 rpg but what drives the interest is his upside — he can become the best center in the NBA.  And savvy evaluators know Embiid  has to compete currently for shots with Wiggins and Selden, two prolific wing players with NBA futures themselves.
How does he fit the Bucks: Embiid may have a tough rookie season as he would need to adjust to playing more physical centers and the attention he would attract as the main scoring option. The Bucks also have Larry Sanders, a defensive player who takes up most of the paint and would leave Embiid fighting for position. The Bucks could try to trade Sanders but his poor performance this season combined with his hefty contract makes him an unattractive option. If the Bucks can deal Sanders, then Embiid would likely flourish and  reach his Olajuwon-like potential.
2.) Philadelphia 76ers- Andrew Wiggins (Forward- Kansas)
Why the Pick: If the 76ers land at number 2 and Wiggins is still available, expect them to sprint to the podium to make this pick. Now Wiggins came to college with unfair expectations, drawing comparisons to LeBron James and Kevin Durant, the two best players in the NBA.  As the season has progressed, we are starting to see why these comparisons were made.  Watching Wiggins drop 41 on West Virginia, (where he played high school ball), he showed a full array of offensive moves and defensive tenacity.  His athleticism is off the charts, and at the absolute worst, Wiggins will be able to guard  premier wing players in the NBA.  Some question his motor but Andrew has shown that when the lights get bright, he won't disappoint.   He tends to have his best games in the biggest games.  Everyone will be watching Kansas during the tournament,  and it won't surprise me if Wiggins takes over and proves why he is the best player in America.
How he fits: With Michael Carter-Williams as the front runner for ROY (Look at Jon's article for his predictions on the major NBA awards) and Nerlens Noel recovering from a torn ACL, the 76ers would have one the youngest cores in the NBA.  And given the pitiful 76er season, Wiggins would undoubtedly create excitement in the city of brotherly love.  Wiggins would immediately become the primary scorer and expected to average between 18-22 ppg. If Brett Brown can tap into Wiggins' potential, the Sixers could be for real very soon.
3.) Orlando Magic- Jabari Parker (Forward-Duke)
Why the Pick: The Magic need a franchise player who can score and Parker would help solve this problem as he can score in bunches. He can face up and bring players to the outside and  body smaller players down low with his 6'8 235 lbs frame. Averaging 19 and 9, Parker can take over a game with his ability to knock down shots and take pressure off bigs on the defensive glass. Parker also brings leadership and a high basketball IQ  that has impressed scouts. Future potential is a great asset, but being able to contribute immediately is Parker's calling card.  Parker is a game changer and the Magic need immediate help.
How he fits: Parker would step into the 3 spot and establish himself as the main scoring threat. With Victor Oladipo and Arron Afflalo at the wings, things could get crowded but Afflalo only has 1 year left on his contract so he can be moved on draft day. With the defensive threat of Oladipo and the offensive prowess of Parker, the Magic would improve and have a solid nucleus of talent.
4.) Boston Celtics- Julius Randle (Forward-Kentucky)
Why the pick: Julius Randle is probably the best equipped to deal with the NBA's physical punishment of the top like picks as he stands 6'9 250 lbs. Randle is  extremely athletic (http://www.youtube.com/watch?v=zt8pMZ7Gg-M) and shoots well from about 15-20 ft. He doesn't shoot as much at Kentucky because of the perimeter-oriented players like the Harrison twins and James Young. There is no doubt that Randle could be a double-double machine in the NBA and may develop into a primary scorer.
How he fits: With the coaching ability of Brad Stevens and the return of Rajon Rondo, Randle should be just fine in terms of having success in his rookie year.  Imagine a Rajon Rondo/Julius Randle pick and roll, with Rondo's ability to get into the lane if the big comes out and switches, combined with Randle's size against a smaller guard.  This duo could be potent.  Boston would still be in rebuilding mode though as they have numerous holes to fill.
5.) Utah Jazz- Gary Harris (Guard-Michigan State)
Why the Pick: The Jazz have a nice young nucleus with Trey Burke, Gordon Hayward and Derrick Favors, but they lack a defensive stopper. Gary Harris is a tremendous two-player who could guard the elite playmakers in the West. He averages 17.7 ppg and 2 spg for the Spartans but his numbers don't encompass his true value as Harris is asked to take all the big shots for Coach Izzo and he  creates shots by himself. This is an important quality for any two-guard as scoring in the NBA won't always be generated from a drawn-up set.
How he fits: Alec Burks is a good offensive player but he is nowhere near the overall player that Harris is, hence why Harris would start on the currently constructed Jazz team. Come crunch time, Tyrone Corbin should feel comfortable throwing Harris on the opposing teams' best player.
6.) Los Angeles Lakers- Dante Exum (Guard-Australia)
Why the Pick: Sorry Lakers fans, the Kobe days are dwindling and they will need an heir to the franchise. Enter Dante Exum, the slim guard from down under. Exum is a super-quick combo guard who, standing at 6'6 is a nightmare for smaller guards. He can also pass, making him an even more intriguing prospect. He needs to work on his shot and his time training with the renowned Tim Grover (trainer of MJ, Kobe and D-Wade) should be beneficial. If Exum falls this far, there is no doubt the Lakers should take him.
How he fits: This draft process could be interesting as Exum is represented by Rob Pelinka, Kobe's agent and rumors are swirling that Exum wants to end up in LA. All that hoopla aside, Exum will be a secondary type of scorer but learning from one of the most prolific scorers in history of the NBA shouldn't hurt. After Kobe's days are done, look for Exum to assert himself as the Lakers' superstar.
7.) Denver Nuggets (Pick from Knicks)- Marcus Smart (Guard Oklahoma State)
Why the Pick: Even though Smart has had a down sophomore season, make no mistake his talent is off the charts. He can penetrate and finish at the rim and is a tenacious defender. He is also a vocal leader, evident by his invitation to last years' Team USA summer camp. Frankly, the overreaction to Smart's incident in Texas Tech is disappointing and I don't think his stock will be impacted by the incident. He desperately needs to work on his outside shooting and even if he becomes a 45% percent shooter, his game will improve.
How he fits: Smart is deadly on the fast break and Denver currently averages 100 offensive possessions, best for 3rd in the NBA, making Smart a perfect fit for Brian Shaw's up-tempo style. Smart won't have the pressure of being the main scorer as Ty Lawson has that covered. Smart should start though, as the Nuggets don't have a real threat at the two-guard position.
8.) Sacramento Kings- Aaron Gordon (Forward-Arizona)
Why the Pick: Gordon, like Wiggins was given an unfair comparison, this time comparing Gordon to Blake Griffin. While the two are both supremely athletic, Blake was much more refined in college and now has become a top 10 player in the NBA. Gordon can rebound, play defense on the perimeter and is a terrific passer in the post. His shot needs work, but his outside game will never be the focal point of Gordon's success. Gordon also has a hot motor, a value overlooked by many fans.
How he fits: The Kings have a boatload of individual talent in Isaiah Thomas, Ben McLemore, Rudy Gay, Derrick Williams and DeMarcus Cousins but the wins are coming. Gordon won't put up gaudy stats in  his rookie year but he will definitely provide the necessary intangibles to win games. He reminds me of another Wildcat, Andre Iguodala, who never put up ridiculous stats, but has been a team leader and can defend the other team's best player.
9.) Cleveland Cavaliers- Rodney Hood (Forward-Duke)
Why the Pick: With Luol Deng going to test free agency and LeBron not thinking about going back home, the Cavs are going to need a scoring wing player. Hood has a strong offensive array, combing individual moves with the ability to come off of Duke's typical sreen-action. He is shooting 48 percent from the field and 42.5 percent from the three and has played a tremendous secondary role for Duke. He needs to work on his defense, which is strange for a Duke player  from the Coach K system, but with more time and good NBA coaching, he should improve.
How he fits: Hood probably will be a third option on a good team, but for the Cavs he could be the second option behind Kyrie. The Cavaliers could use a knock-down shooter to reap the kick-outs of Kyrie's driving prowess and Hood fits. Hood doesn't have the potential as some of the previous prospects, but he should be good for 15-18ppg for his career, making him a safe pick for the troubled Cavaliers.
10.) Philadelphia 76ers (Pick from New Orleans)- Zach LaVine (Guard UCLA)
Why the Pick: The 76ers could change their franchise if New Orleans falls out the top 5 (part of the protection of this pick) and LaVine would provide an even more athletic piece to this team, already loaded with young talent. LaVine can shoot although he is a bit streaky evident by his 14 games with less than 10 points yet he has 8 games with over 15 points. These numbers don't scream lottery pick, but his potential is worth the risk for the Sixers. He shoots 40 percent from behind the arc, and averaging a steal per game, LaVine does play both ends of the courts.
How he fits: LaVine can handle the ball, which would enable Michael Carter to play off the ball more and since LaVine can shoot he would open up driving lanes. Just imagine a Michael Carter Williams, Zach LaVine, Andrew Wiggins, Thaddeus Young and Nerlens Noel lineup, not bad at all. The 76ers like to push the tempo, which would allow  the super-athletic LaVine to get out on the break and finish at the rim.
11.) Charlotte Bobcats- James Young (Guard- Kentucky)
Why the Pick: James Young can flat out get buckets, and if he didn't play for the Kentucky Wildcats, he would surely be averaging over 14.4 ppg. He has elite size for a two guard, standing at 6'6 with a 6'11 wingspan, meaning he will be able to get up shots on the NBA level. He needs to work on his defense but the size and instincts to become a solid perimeter defender are there, evident by his five steals in his last five games.
How he fits: Every team needs at least two scorers who can create for themselves and there is no doubt that Young would be able to fit this role in Charlotte. If he learns from the best player in the history of the game in MJ, James Young could have an advantage over the other prospects listed above him. It wouldn't surprise me if Young became a 20+ scorer in due time.
12.) Orlando Magic (Pick from Nuggets)- Noah Vonleh (Forward- Indiana)
Why the Pick: Noah Vonleh came into Indiana as the next must-see player in Hoosier basketball and he has lived up to the hype. He averages 11.4 ppg and 9.1 all while shooting over 50% from the field. He has a nice inside-out type game and can shoot from 3, despite his hesitancy to do so. Vonleh also has a solid power forward sized body, standing 6'10 240 lbs, which means he should be able to play against the elite power forwards in NBA.
How he fits: Now that "Big Baby Davis" is gone, the Magic could use help at the power forward position. Vonleh would be given time to develop as a scorer as he could leave the scoring to Jabari (see above). There is no doubt that Vonleh can rebound and with his evolving offensive game, he could develop into a solid starter and maybe make an all-star team or two.
13.) Minnesota Timberwolves- Doug McDermott (Forward-Creighton)
Why the Pick: Doug "McBuckets" McDermott is probably the safest NBA prospect as he will always be able to score the basketball. With over 3,000 points in his Creighton career, Doug is currently 7th on the list of all time college scorers. He has a bevy of offensive moves as he can use his big body in the post and can shoot from outside, with a 3pt shooting percentage of 45%. The NBA has a propensity to draft players with potential, and there is no doubt that McDermott deserves a lottery selection.
How he fits: In the caption I said that McDermott could be the perfect fit should Kevin Love leave the Wolves. This is not saying that McDermott will be the next Kevin Love, rather McDermott has a similar playing style as a stretch 4 that can shoot the three. McDermott could learn the game sitting behind Love and should Love leave during free-agency, McDermott could step in and contribute.
14.) Memphis Grizzlies- Jerami Grant (Forward-Syracuse)
Why the Pick: Jerami Grant is a NBA-ready athlete that uses his athleticism to beat opposing wings at the college level. Grant can shoot from the midrange but needs to work on his 3-point shot, which is essential for a small forward. He can defend using his 7'2 wingspan and knows defensive rotations as he leads from the back line of Syracuse's famed 2-3 zone.
How he fits: Sure the Grizz could use some more perimeter oriented offense to combine with Z-Bo and Marc Gasol, but Grant has too much potential to pass up. As his offensive game evolves, Grant could become a 15 ppg player who provides tough defense to guard the opposing team's best wing player. As Tony Allen primarily defends smaller and quicker point guards, Grant could lock down forwards, making for a dynamic defensive duo.
15.) Atlanta Hawks- Tyler Ennis (Guard-Syracuse)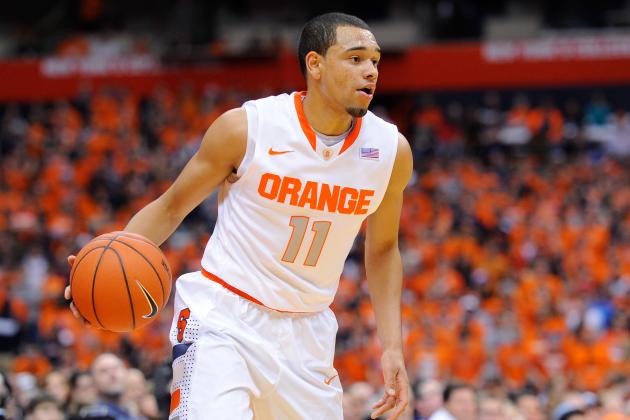 Why the Pick: Tyler Ennis is a killer, he is calm under pressure (this has been said a billion times) and has led Syracuse to a 27-4 record this year and possibly a number one seed should the Orange win the ACC title. Ennis serves as a pass first point guard, looking for others to score then taking his own shots. Averaging 5.5 assists per game along with only 1.7 turnovers a game, he is showing why he is a lead candidate for the Bob Cousy award. He is not an elite athlete and with so many explosive players at the point guard position, the questions remains whether Ennis can handle the faster guards.
How he fits: The Hawks don't need a point guard seeing as they drafted Dennis Schroder last year and just signed Jeff Teague to an extension, there is always room for improvement and I believe Ennis is a significant upgrade. Teague's contract is relatively friendly with only $24 million owed for the next three years, making it a movable piece for the Hawks. If Ennis could be paired with Paul Milsap and a healthy Al Horford, the Hawks could be in business. The problem is if Ennis has a spectacular tournament, his stock will rise and will probably be off the board before the Hawks have a chance to get him. Ennis is a good bet to be the player picked later in the draft that turns out to be a top-5 player in the class.
16.) Chicago Bulls- (Pick from Charlotte) TJ Warren (Forward-North Carolina State)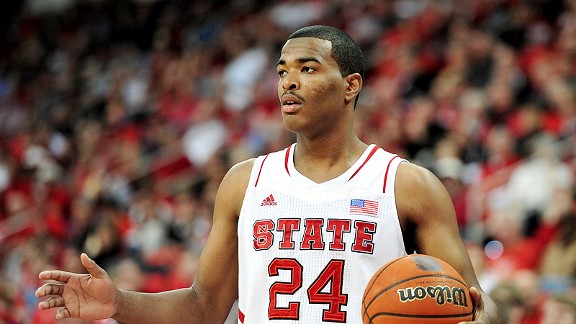 Why the Pick: TJ Warren is a "bucket getter" averaging 24.7 points per game while shooting 53 percent from the field. He took a tremendous leap from his freshmen year where he only averaged 12 ppg and now he is the ACC Player of the Year. Warren does have his pitfalls as he doesn't have the athleticism of an ideal NBA wing player and is really more a scorer.
How he fits: Warren fits perfectly, the Bulls need instant offense and a shot creator to come off the bench. Under Tom Thibodeau's defensive system, Warren's defensive weaknesses can be covered, allowing him to flourish on the offensive side of the ball. Warren would also work well with Derrick Rose as he can come off screens and spot up and shoot. The Bulls should be drooling if Warren falls to them at this spot.
17.) Boston Celtics (Trade from Brooklyn Nets)- Kyle Anderson (Guard-Forward UCLA)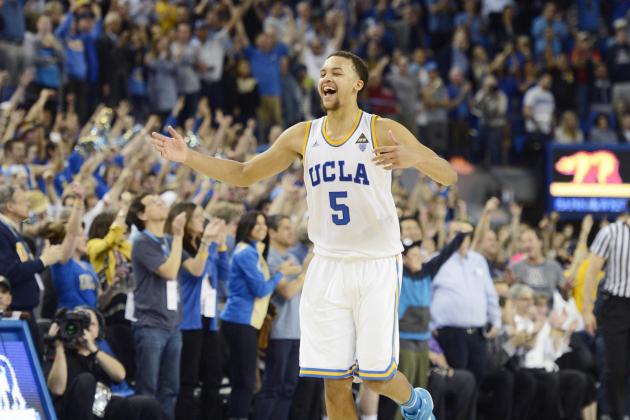 Why the Pick: Kyle Anderson aka "Slow-mo" is as advertised, slow yet patient, never allowing an opponent to change his pace. Anderson improved from his freshmen year, his scoring went from 9.7 ppg to 15ppg, his assist from 3.5 to 6.6 and his field goal percentage from 41 percent up to 48 percent. He does have some turnover issues at 3.5 per game but UCLA runs a fast pace offense under Steve Alford averaging 72.7 possessions per game, making the turnover numbers greater. Anderson also possesses terrific size, standing at 6'9 he is bigger than all NBA point guards, making for a better view of the court, a plus for teams looking for point guards.
How he fits: Rajon Rondo looks to be on the outs as Danny Ainge tried to trade him at the trade deadline and there have been reports that Rondo is not happy with Boston's plan to rebuild. Kyle Anderson would fit well, probably earning the starting point guard spot should Rondo leave. With the recent success of Michael Carter-Williams, Anderson might be a prime target for teams looking for a bigger guard. Anderson, like Ennis, could rise if he impresses during tournament time.
18.) Phoenix Suns- Montrezl Harrell  (Forward- Louisville)
Why the Pick:

As the NBA draft gets down towards the late-teens, teams look for situational-role players. Harrell fits the mold of a solid big defender who can guard in the post. A bit small at 6'8, Harrell has a massive 7'4 wingspan that should serve him well going up against the likes of Kevin Love, LaMarcus Aldridge, Blake Griffin,  and all the other potent bigs in the Western conference. Harrell has a limited post-up game that needs significant improvement, but that is not his calling card as Harrell uses his athleticism to create easy layups and dunks. 
How he fits: With a guard oriented team like the Suns, Harrell won't have to worry about scoring a prolific rate in order to be effective. The Suns are in desperate need of a lock-down post defender and in time, I believe Harrell could become just that. Combined with Eric Bledsoe and Goran Dragic, Harrell could feast off of lobs from the two-point guard system. Harrell should be a quality NBA player for the Suns and could be an elite defender.
19.) Chicago Bulls- Nik Stauskas- (Guard-Michigan)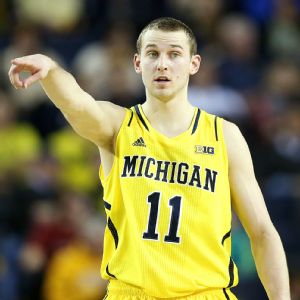 Why the Pick: Nik Stauskas is a shooting machine who can light it up from 3-point land, averaging 2.4 3pt baskets per game while shooting a tremendous 45 percent. He also can shoot off the dribble, making him even more of an outside threat. Stauskas has good shooting guard size at 6'6 but he needs to improve his defense given his size. Stauskas reminds me of Klay Thompson without the defensive instincts.
How he fits: Kyle Korver. Mike Dunleavy Jr. Both have had success in Tom Thibodeau's system and I believe Stauskas could play the younger and more athletic role of both of these aforementioned players. Combined with TJ Warren, the Bulls could have a lethal scoring duo from the bench. There is a possibility that the Bulls maybe trade the two picks for a higher selection so the Bulls might not be able to get both players.
20.) Toronto Raptors- CJ Fair (Forward-Syracuse)
Why the Pick: CJ Fair is a talented senior who has improved every year he has been at Syracuse going from a 6 point scorer freshmen year to a 17 point scorer this season. He has a tremendous midrange game and can even shoot the occasional 3 point shot. He is also a solid defender who has good lateral quickness but lacks power forward size. Although Fair doesn't have size, the league is changing and stretch fours are becoming more and more popular, making Fair an attractive candidate to teams who need more shooting.
How he fits: Massai Ujiri came to Toronto because he saw the promise of DeMar DeRozan and Jonas Valanciunas and viewed them both as franchise players. DeMar has clearly taken that step with the departure of Rudy Gay and now Jonas needs to take the same step. The problem is Amir Johnson primarily plays in the post, clogging up room for Jonas to operate. With CJ Fair, the Raptors could give Jonas more room in the post and have CJ as a potential 15 foot jump shooter. 

21.) Oklahoma City Thunder- Adreian Payne (Forward-Michigan State)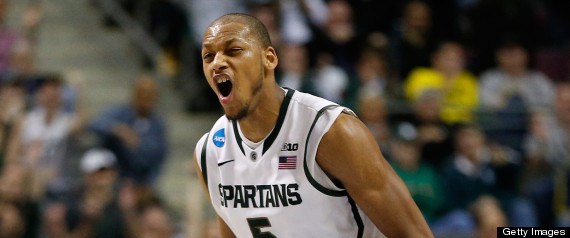 Why the Pick: Adreian Payne is the cornerstone of the Michigan State program and is obviously the leader on the court and in the locker room.  Add Payne to an already very positive and vocal locker room, and the chemistry is enhanced. On the court, Payne can stretch the floor and can play some defense against bigs but he needs to be more focused on both sides of the floor.
How he fits: Payne could be the heir apparent to the wily veteran Nick Collison and would likely serve a limited reserve roll for the Thunder. The Thunder have a nature of rotating rookies in and out of the D-League and then give them a bigger role in their sophomore campaign. If Payne fits the system he will probably ride the pine for his first year, yet emerge as a talented back-up later on.
22.) Phoenix Suns- PJ Hairston (Guard-Texas Legends)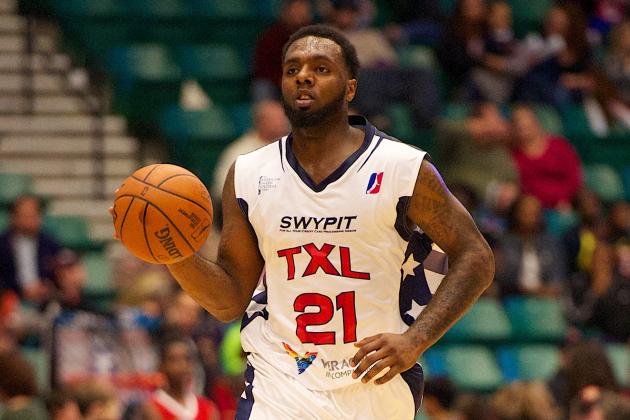 Why the Pick: PJ Hairston minus his recent off the court trouble could have been a lottery pick, and maybe a possible POY candidate in the ACC. Make no mistake Hairston is talented, equipped with an effective outside game and NBA-type size, he is in perfect position to play the two-guard. In the D-league, defense is poor and some of Hairston's stats are inflated but he is still showing why he was the best player on North Carolina last year.
How he fits: Gerald Green has found himself a nice niche in Phoenix, but his contract expires after next year and he could look to take a more lucrative offer elsewhere, leaving room for Hairston. Hairston most likely will rotate between the D-League and the NBA during his rookie year, but he could be a significant piece in his sophomore year.
23.) Utah Jazz- Chris Walker (Forward- Florida)
Why the Pick: Chris Walker was one of the best high school players in the nation last year, but he sat out the beginning of this year with academic issues. Walker is extremely athletic on both sides of court and can change the course of the game with his mere presence. Though talented, Walker is raw and his mid-range game needs significant work and development.
How he fits:  Utah has one of the youngest teams in the NBA and they are clearly in rebuilding mode, so Walker would probably have the opportunity to make an impact his first year. Walker would probably back-up Derrick Favors but given playing time he could force himself into the starting lineup. Walker has tremendous talent and even reminds me of a rawer version of Amar'e Stoudemire.
24.) Charlotte Bobcats- Willie Cauley-Stein (Center-Kentucky)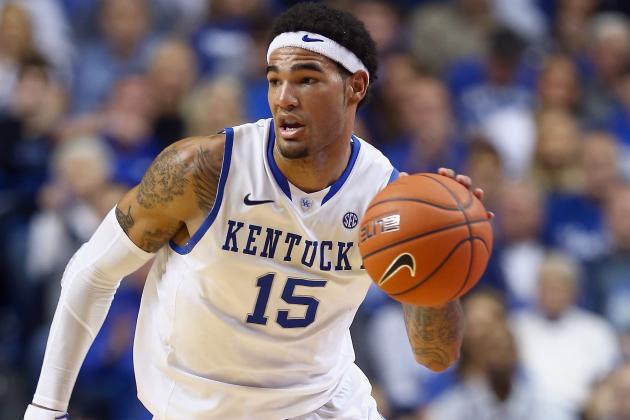 Why the Pick: Willie Cauley-Stein is a prolific defender, who might just be a better shot-blocker than Anthony Davis but his offense is a work in progress. He is also extremely athletic, which helps him dominate in the paint. If Cauley-Stein can improve the post-game he could be a quality NBA center.
How he fits: Charlotte would be a tremendous fit for Cauley-Stein, as he could play next to Al Jefferson and primarily focus on the defensive side of the floor. The Bobcats are a nice, young team and Cauley-Stein would be another good addition.
25.) Los Angeles Clippers- Wayne Selden (Guard-Kansas)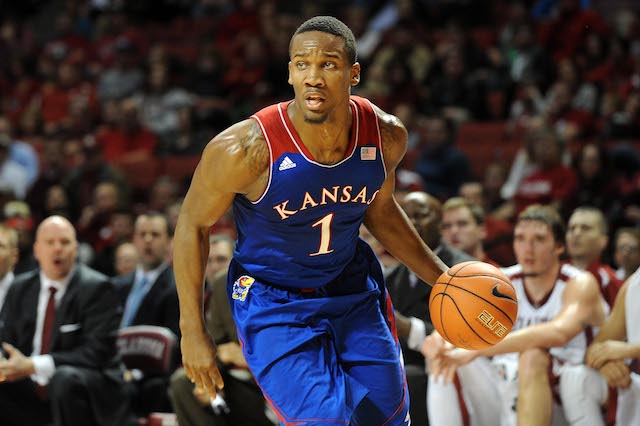 Why the Pick: Wayne Selden has one of the most NBA-ready bodies, standing at 6'5 230lbs with a knack for getting to the rim, he could vault up draft boards with a strong NCAA tournament. Selden is also improving his outside game, a necessity if a player wants to survive as a two-guard in the NBA. His defense could improve as well as his shot selection but Selden is a solid prospect with nice upside.
How he fits: The Clippers tried to bring in two shooters in JJ Redick and Jared Dudley in the offseason and both have disappointed. Jamal Crawford is getting older and the Clippers could use another young, talented player like Selden to bolster their bench and possibly start alongside CP3.
26.) Houston Rockets- Glenn Robinson III (Forward-Michigan)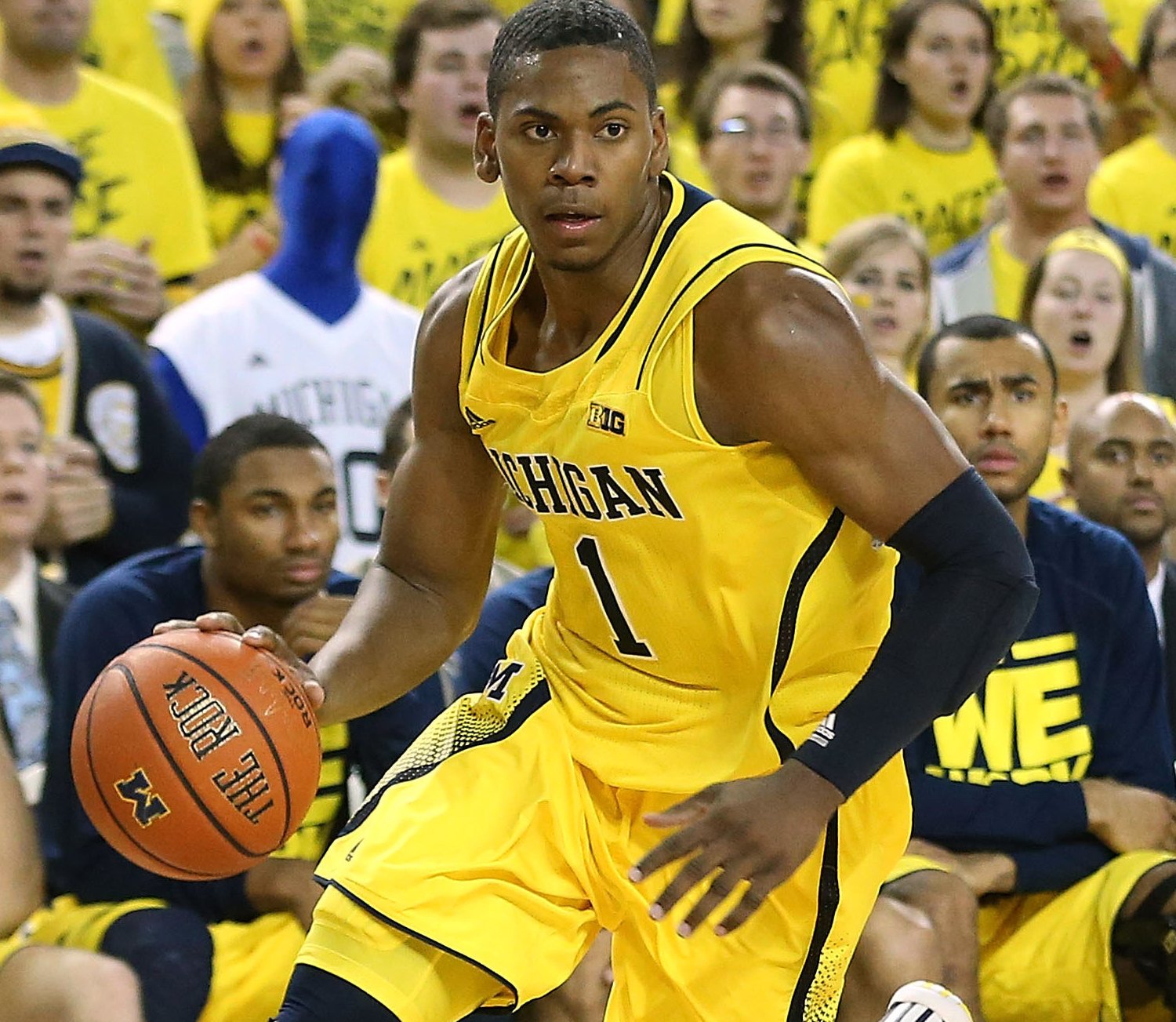 Why the Pick: Glenn Robinson III (son of "Big Dog" Robinson) has all the talent to be an NBA player, he has great size and tremendous athleticism and can shoot, but it doesn't seem like he can put it together all at the same time. He is consistently inconsistent, which is infuriating to watch because he is such a talent. GR3 could be another player who could help his draft stock with a big NCAA tournament.
How he fits: Chandler Parsons is going to be a free agent after next summer and being a second round-pick he is probably going to cash in big time. There are rumors that the Rockets could target Carmelo Anthony during the offseason, leaving the Rockets with little to no cap room for Parsons, so this makes GR3 an ideal fit, seeing as he has the potential to be another Chandler Parsons as he can shoot it and can play defense.
27.) San Antonio Spurs- Clint Capela (Forward-Switzerland)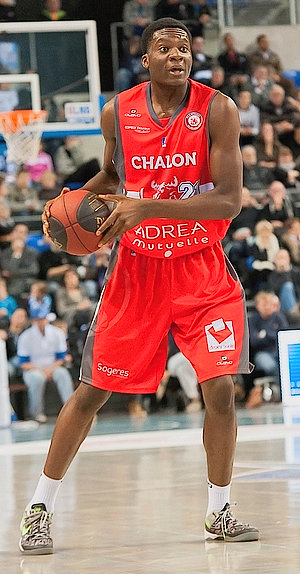 Why the Pick: Many have compared him to a young Serge Ibaka, a prolific defender with great size who needs to learn how to play the game in an NBA system. Granted, my access to Capela is limited but from the scouting tape he looks like an NBA player who could contribute as a back-up defender on a contending team.
How he fits: The Spurs are nearing the end of their run, yet Coach Pop always has a tendency to develop the unknown player and turn them into a contributor. With Capela, Pop would have a nice interior defender who can run the floor and provide solid minutes when Duncan or Splitter is out.
28.) Miami Heat- Mario Hezonja (Guard-Croatia)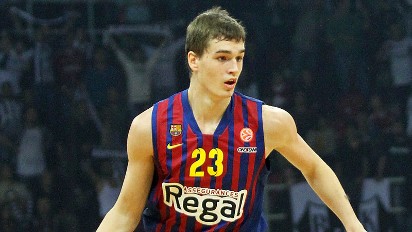 Why the Pick: Hezonja is another prospect who I have to use film to watch, when I did watch his tapes I saw a player who has tremendous range and good size at 6'7 to play either the 2 or the 3. He needs to improve on the defensive end if he wants to be a solid player in the NBA,  but the talent is there.
How he fits: Hezonja will most likely be a Euro-stash pick who would stay in Spain and play more and then receive a buy-out in a couple of years. With the Heat wanting to re-sign the big 3, Hezonja will likely be coaxed into staying the Spain for a couple of years until the Heat figure out their cap situation.
29.) Oklahoma City Thunder- Jahii Carson (Guard-Arizona State)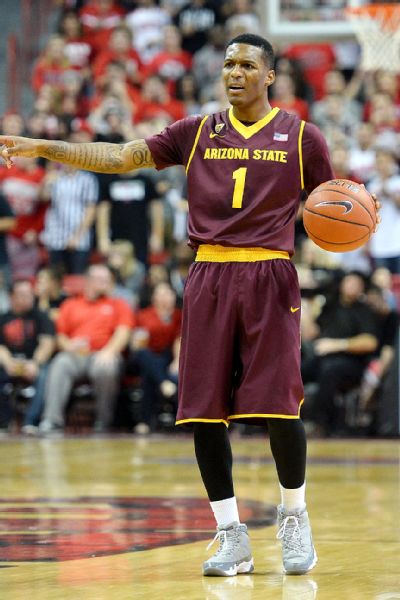 Why the Pick: Jahii Carson is small, but he has a bulldog mentality, constantly attacking the rim, regardless of the size of his defender. He also is a willing passer, evident by his 4.5 assists per game. Defending bigger point guards is going to be a problem but his elite quickness should help some.
How he fits: I have no idea why Derek Fisher is still getting minutes in an NBA game, but Carson could put an end to this foolishness if he were drafted by the Thunder. Frankly, the Thunder need another ball when Reggie Jackson is on the floor and Carson would be serviceable.
30.) Phoenix Suns- Semaj Christon (Guard-Xavier)
Why the Pick: Semaj Christon is one of the most underrated players in college basketball, as he can play the 1 and the 2 for the Musketeers. He is a terrific ball-handler and is capable of scoring for himself while also working inside the flow of the offense. His size is a question mark as he only weighs 190 lbs. He can shoot from deep, but he is still a work in progress.
How he fits: Jeff Hornacek has done a tremendous job with the Phoenix guards, Eric Bledsoe and Goran Dragic and rookie Archie Goodwin has shown promise and Christon could be the same way. The fast pace at which Phoenix plays fits right in with Christon and he could be a nice back-up for Bledose and Dragic.
Conclusion: This draft is a pivotal piece for the growth of teams and with so many teams trying to "tank", the emphasis on this draft is highlighted even more. The hype has been a bit overstated as it was compared to the legendary '84 and 03′ drafts, but make no mistake, this draft has extraordinary potential.