By: Evan
The Southwest division will be one of the most intriguing divisions in the NBA with the potential for three different teams to win the division. The San Antonio Spurs, Houston Rockets and Memphis Grizzlies all have talented teams that made significant runs in the playoffs last season and will look to make even deeper runs this season. The most significant change for the Rockets is the addition of Dwight Howard, who signed a four year $88 million dollar deal with the potential opt-out after year two. With a core of James Harden, Dwight Howard and Chandler Parsons, the Rockets are looking to win a title.  But they need to best the Spurs and Grizzlies, two experienced teams with elite players like Tim Duncan, Tony Parker, Zach Randolph and Marc Gasol.  It should be an exciting season, now let's look at some predictions. *Denotes playoff team
1.) *Houston Rockets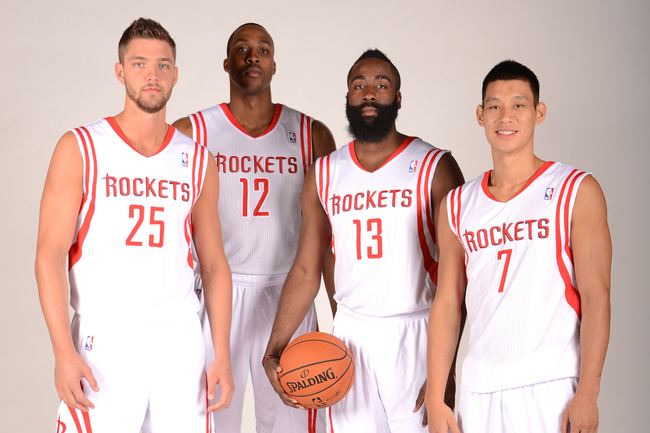 Dwight Howard is a tremendous addition to an already talented Rockets starting lineup, providing a low post presence that will take some pressure off of James Harden and Chandler Parsons on the perimeter. The main issue for the Rockets will be establishing a pace as last year they averaged 106 points per game, good for second in the league, but D12 likes to body his defender in the post and slow the game down. If Kevin McHale can set the tone and find a balance, the Rockets will be tough to beat.  Another key will be Jeremy Lin's growth from last season as the media world focused on him and his play regressed from his days in New York. If he can eliminate some turnovers and improve his 34% 3-PT shooting, the Rockets will have a scoring threat from almost every position. As Jon mentioned before, James Harden has seized the opportunity to lead a franchise as he posted a ridiculous stat line of 26 ppg 5.8 rpg and 4.9 apg, all career highs. Look for him to better his assist numbers as well as efficiency since Dwight Howard will draw some double-teams in the post. This team is dangerous and when they make the playoffs, they have a shot at knocking off the Heat.
2.) *San Antonio Spurs
The only reason why the Spurs are not the top team in this division is their age.  Popovich likes to rest his older players during meaningless regular season games, which lowers their seeding.  After the disappointment of losing in the Finals last year, it will be tough for the Spurs to get back as so many other teams improved.  Last year might have been the last chance for this current Spurs' core to win a championship, but that has been said for a few years now, and the Spurs have continued to excel.  This year the plan will be similar for Pop — give Kawhi Leonard more of Tim's minutes and hope Tony and Manu stay healthy.   It will be interesting to see the growth of Kawhi Leonard, a player who was considered a role player, now being called on to take the reigns from one of the greatest big men of all-time, TIm Duncan.  Kawhi has emerged as a tremendous two way player with terrific athleticism, defensive intensity and an underrated 3-PT shot. The other player to watch is Tony Parker, who made a solid case for MVP last season, putting up 20.3 ppg 7.8 apg and shooting an insane 52% from the field. If he can replicate his play then Houston and San Antonio could switch spots come May. For Spurs' fans, its all about the playoffs.  If the Spurs stay healthy, they might have another run left in them.
3.) *Memphis Grizzlies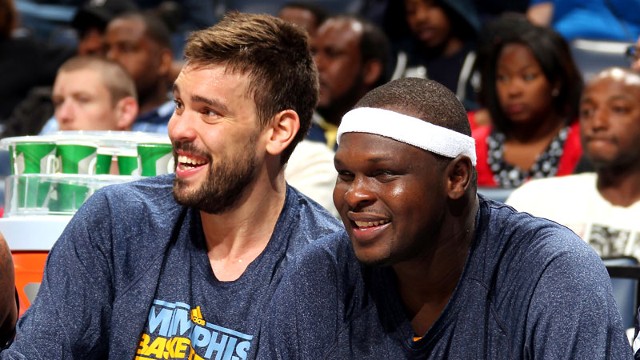 The Grizzlies are another interesting team that had a shot at the NBA finals last year when the Thunder's Russell Westbrook was injured.  The Grizzlies needed an elite 3PT shooter last year so they added Mike Miller, a stud shooter who is prone to injury and is also a liability defensively. I don't think he is enough to make the Grizzlies true contenders to represent the West in the Finals.  But now let's look at the positives, they have Z-Bo and Gasol, two elite post players who compliment each other's game very well as both are good passers and can make a 15 foot jumpshot. They also have Tony Allen, probably the best perimeter defender in all of basketball, but he can't score, making him a non-entity on the offensive side of the ball.  The other player worth noting is Mike Conley Jr, a solid point guard who played well last season, but was eventually overwhelmed by the elite point guard play of Tony Parker in the Western Conference Finals. This Memphis team might need to make a mid-season trade for a perimeter scorer if they have any hopes of making a long run in the West. The Grizzlies are good but not good enough to be a top four seed.
4.) *New Orleans Pelicans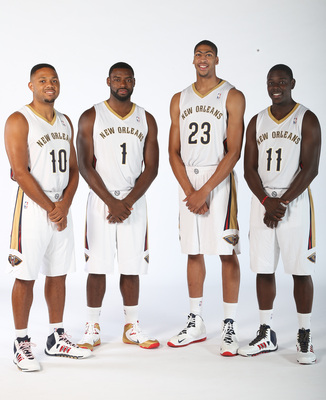 The newly named Pelicans are young, and a sleeper team.  The team has a terrific young core with Jrue Holiday 23, Eric Gordon 24, Tyreke Evans 24, Ryan Anderson 25 and Anthony Davis 20.  New Orleans' biggest move was trading away next year's first round pick to Philly for Jrue Holiday, a surprising move for some as the first round pick in 2014 could be a star, but New Orleans opted for a proven All-Star in Jrue Holiday. NOLA also signed Tyreke Evans, who was in a dreadful situation in Sacramento and although he has regressed since his standout rookie season, with more shooters and playmakers, he should be able to find more ways to score. The key will be Eric Gordon, an oft injured shooting guard who has past history of being a 20 point scorer and could improve the Pelicans' playoff hopes if he stays healthy. The other integral member of this squad is last year's #1 overall pick Anthony Davis, who was the most efficient rookie last year with a PER of 21.86 good for 15th in the entire NBA. He is a menace on the defensive side and his offensive game has clearly improved since his Kentucky season and Davis could be an All-star. The main problem with this team is the lack of girth up front as Davis isn't your ideal big man with size and strength.   Davis is more finesse and quickness than power.  If  NOLA  trades one of their shooters like Ryan Anderson for a defensive big man, the Pelicans would have a solid team at all positions. The Pelicans should improve greatly from last season, and develop nicely as these young, talented players mesh well.
5.) Dallas Mavericks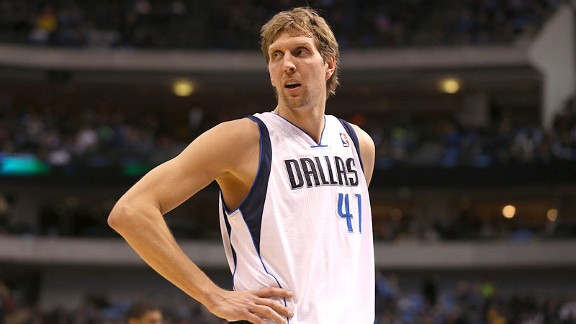 The Dallas Mavericks have gone from NBA champions in 2011 to the edge of irrelevance in 2013-2014. Most of this is due to the missed opportunities in free agency including the Deron Williams, Chris Paul and Dwight Howard sweepstakes. Now the Mavericks have constructed a team with Dirk at the helm and Jose Calderon and Monta Ellis as secondary players, a team that will be lackluster defensively to say the least. Mark Cuban won't settle for medicority and that is why I posed the question, should the Mavs trade Dirk? The team publicly has said they want Dirk to retire a Maverick but if a borderline-championship team offers valuable picks for an aging veteran, the Mavs would be unwise to pass on the opportunity.    Dallas is not a serious contender, and they are in a rebuilding mode whether they know or accept the fact.   If this is Dirk's last season as a Maverick, he will probably land with a contender by Christmas, and Dallas will look to get some new talent in the stacked 2014 draft.
Stats from ESPN