By: Evan
The 2014 NFL Draft will be one of the most stacked quarterback classes in recent memory, with both elite mobile and pocket passers. There are a multitude of teams that need a quarterback to lead their respective franchises, and this draft class will produce five star quarterbacks. Lets look at these future NFLers.
1) Teddy Bridgewater- Louisville Cardinals
Teddy Bridgewater is the real deal.  He  throws the ball with power and precision, a rarity for college QBs.  He  possesses the physical and mental toughness that an NFL quarterback needs, evident by how he played with a sprained wrist and ankle  to get the Cardinals to the Sugar Bowl. The only drawback  that Bridgewater faces during the NFL interviews is the strength of Louisville's schedule because they don't play a top 25 team this year.   But Bridgewater does not make the schedule, and he had an extremely impressive game against Florida last year, throwing for 266 yards and 2Tds with 1INT.  He has the talent to play with anybody.
NFL Comparison: Aaron Rodgers
This comparison is not perfect as Aaron Rodgers learned the QB position behind Brett Favre, making for a smoother learning curve.  Bridgewater probably won't be as lucky, and will need to develop a quick rapport with his receivers and contribute from game 1.   Teddy has great accuracy and touch in the red zone,  just like Rodgers.  Rodgers has a stronger arm, but Bridgewater's arm strength will improve, and he will be a nightmare for defenses.  The other apt comparison is the subtle athleticism.   Rodgers is deadly spreading out secondaries and then rushing to gain the first down.  Bridgewater has the same ability, to run when least expected, exploiting the seems in the defense.  It's high praise to be compared to Aaron Rodgers, and Mr. Bridgewater deserves the honor.
2.) Johnny Manziel- Texas A&M Aggies
Johnny Football has been all the rage this summer, from offseason partying to the photograph scandal. Don't be distracted, Manziel is gifted, and other pundits argue Manziel is a top 5 pick.  Manziel annihilated the best defense in college football in Alabama, and has excelled on the biggest stages.  He has a strong arm with good, not great accuracy, and terrific mobility. The biggest issue for Johnny may be convincing NFL executives that he is ready to lead a franchise.  His off-the-field issues may drop his stock with some teams, but Manziel is a unique talent with tremendous upside.
NFL Comparison:  Drew Brees
Manziel will not likely land with a team nearly as talented as the Saints, but he has the potential to be the NFL Offensive and Drew Brees is a natural leader, has a big arm and comes hard every game.  Manziel mimics Brees' qualities, including a risk-taking tendency.  Brees' presence is stellar, and Manziel needs to mature so he can command the NFL huddle.
3.) Tajh Boyd- Clemson Tigers
Tajh Boyd is turning heads this year Courtesy of ESPN
Tajh Boyd is a stout presence in the pocket, has good overall quarterback tools and leadership qualities. All positives but his throwing motion has worried NFL executives, and raised questions about whether he will be able to pass over the huge defensive lines. This seems to be a fixable problem according to many QB gurus and could be solved by draft time. Boyd has been impressive this season with 6 TDs and no interceptions and a passer rating of 148. Boyd will be a franchise player with a nice upside if he's put in the right system.
Pro Comparison: Russell Wilson
The critiques of each quarterback are the same, so it is easy to make the comparison. Tajh probably won't have the luxury of being selected by a talented team like the Seahawks, but he could have a tremendous impact on any wavering franchise. If Boyd continues on his current pace, he will rise on draft boards and maybe to #2 on my list.
4.) Marcus Mariota-Oregon Ducks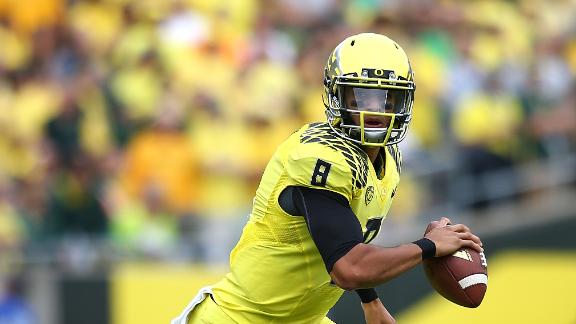 Under the tutelage of Chip Kelly, Marcus Mariota has emerged as an tremendous read-option quarterback with the potential to grow into a dangerous duel-threat quarterback. He has tremendous speed in both the open field and out of the backfield along with a decent arm. Mariota will have to learn how to throw accurately from 3 and 5 step drop backs and adjust to new NFL formations besides the shotgun. He will take some grooming but he has the skills to emerge as a solid to top 10 quarterback in the NFL.
NFL Comparison: Lesser Version of Colin Kaepernick
Colin Kaepernick played the spread offense at Nevada similarly to Mariota in Oregon. Kaepernick has all-world physical tools and possibly the strongest arm in NFL. Kaepernick had the opportunity to learn under Alex Smith for a season and figure the important details of being an NFL quarterback and now he has shown his talent. If a team with an older quarterback that has only a couple of years left, Mariota could be stored in a Kaepernick type fashion and then take over in 1-2 years after being drafted.
5.) AJ McCarron- Alabama Crimson Tide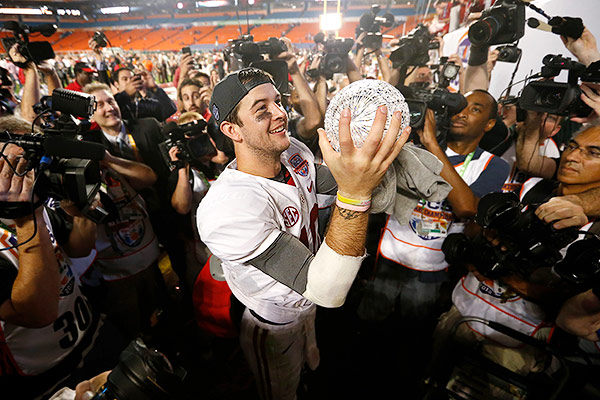 AJ McCarron has two more national titles than all of the aforementioned quarterbacks and has the best team in college football on his side. He has shown he can play in big games but scouts question if he is a product of Nick Saban's environment or is his true talent really showing. Saban's mentality for a QB is to not make mistakes and let the stout offensive line wear down opposing defenses and then run the ball. In the NFL, McCarron won't have the best talent at almost every position, and he will be required to take more risks.
NFL Comparison: Carson Palmer
Palmer played with a talented USC team and shot up draft boards because of his elevated stats. McCarron has the same deal at Alabama with it's tremendous offensive line and TJ Yeldon is one of the best running backs in college football.   AJ McCarron may develop into a good NFL QB, only time and opportunity will tell.