By: Evan
Projected Record: 8-8
NFC South Rank: 3rd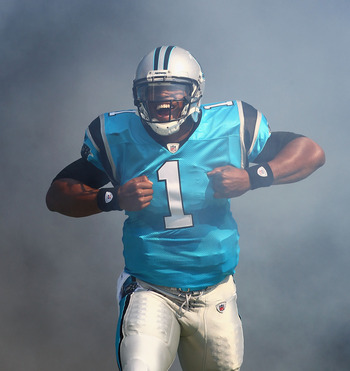 The Carolina Panthers have not made the playoffs in the Cam Newton era, and they probably won't this year, but the future is very bright for a young Carolina Panthers team.  For the Panthers to have success, Cam Newton needs to have a big year and prove why he was taken #1 in the 2010 NFL Draft.  Cam's attitude and leadership capabilities have been questionable, but Cam was named a captain for the first time, and should become a better teammate and leader.  Another reason why Cam should have  a big year is Mike Shula, his former quarterback coach, is now Offensive Coordinator, and Shula knows the ins and outs of Cam's strengths.  Cam also has some weapons in the ultra-competitive wide receiver Steve Smith, tight end Greg Olsen, and the newly acquired Domenik Hixon who wasn't getting much playing time in New York because of Victor Cruz, Hakeem Nicks and Rueben Randle.  Hixon now has a chance to emerge as a threat for the Panthers' squad.   The days of Smash and Dash– meaning Jonathan Steward and DeAngelo Williams, are over.  Look for rookie Kenjon Barner from Oregon to emerge and take over the top running back spot because he is adept at playing the read option and is wicked quick.   The Panthers can sub in either Steward or Williams when needed.  The Panthers are poised to move forward and make strides to becoming a winning team.
Strengths: QB and Front seven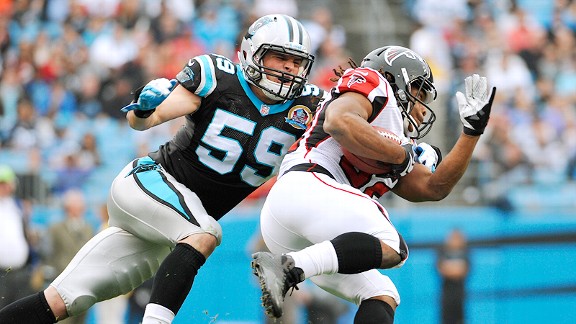 Cam Newton is not just a fantasy football star, but also a pretty good quarterback as well. Although his touchdown numbers decreased from 21 to 19, so did his interceptions coming down from 17 to 12, proving Cam is becoming smarter with the ball and is learning defensive tactics. He also ran for 35 more yards in 2012, improving to 741 yards, which was good enough to lead the team. If Cam figure out a way to balance running and passing and throw a couple more touchdowns, the Panthers should be headed to the playoffs in the next two years. Just look at the caption above and you'll know why I think the Panthers' front seven is one of the best in the NFL. It all comes down the middle linebacker Luke Kuechly, who led the NFL in tackles last year with 164 in his rookie season. He is already one of the best linebackers in the game with room to grow.  But the Panthers also have two ridiculously talented defensive ends in Charles Johnson and Greg Hardy, who combined for 23.5 sacks out of the Panthers 39 total. The front office was smart to draft two DT in Star Lotulelei and Kawaan Short. If not for a potential heart issue, Lotulelei might have been a top 5 pick and Short was a second team All-American in 2012. Now with these two forces on the inside, Johnson and Short will be able to blow by offensive lines without running into double teams. Remember these names as all of the defensive stars for this Panthers teams will be key for the future.
Weaknesses: Wide Receiving Corps, Secondary and Offensive Line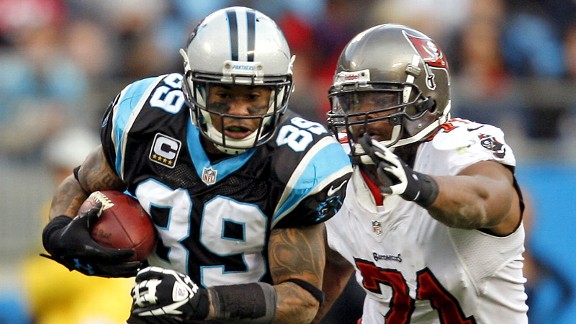 Steve Smith is now 34, Brandon LaFell has potential but needs to show it, and Domenik Hixon is unproven, so it is easy to see why the Panthers need to improve their group of wide receivers. This probably won't change much during the year but this years draft has some pretty good receivers in Marqise Lee, Sammy Watkins and Jordan Matthews. Chances are that the Panthers won't get Lee or Watkins, but they might have a shot at Jordan Matthews or TE Austin Seferian-Jenkins who could help Cam Newton feel more confident about the 2014 season.
For as good as the front seven is, the last 4 four is just as bad with no significant playmakers in the secondary. Cornerback Chris Gamble retired so Captain Munnerlyn and Josh Morgan will have to step up and defend the elite WRs in the NFC South, including Roddy White, Julio Jones, Marques Colston and Vincent Jackson. This is a recipe for countless games of over 300 yards passing and a poor defensive ranking.
Besides All-Pro center, Ryan Kalil and Jordan Gross, the Panthers offensive line is weak.  They gave up 36 sacks last year and if not for the mobility of Cam Newton, that number would have increased significantly. This will have to be another topic of conversation for the Panthers' front office going into next offseason.
Schedule Analysis: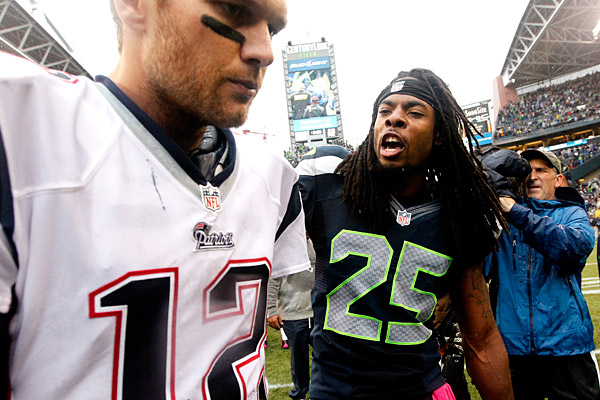 vs Seattle-W: I like this game for Carolina, as the Seattle cornerbacks are very jumpy and can sometimes misread the read option and get exploited downfield. If Cam can get protection I think the Panthers can pull of the upset.
@ Buffalo-W: Cam is better than EJ and the Panthers' front seven is better than Buffalo's, so I have the Panthers starting the season 2-0
vs New York-L: Victor Cruz and Hakeem Nicks will be too much for the Panthers to overcome as Eli Manning picks apart the awful secondary
Bye Week
@ Arizona-W: Arizona had the worst offensive line against the pass rush last year, allowing 58 sacks last year and with Jonathan Cooper out for the season with a broken leg, Greg Hardy and Charles Johnson will have a field day.
@ Minnesota-L: Adrian Peterson loves running at home and this game will be no different as he torches the Panthers D for over 175 yards and 3TDs.
vs St.Louis-L: Tavon Austin is a big play waiting to happen against a terrible secondary and he explodes for both rushing and receiving touchdowns. The Rams also tied for first with 52 sacks last year and with the offensive line in shambles, the Rams get to CN1.
@ Tampa Bay-L: Another game where the Panthers have to deal with a tough runner in Doug Martin as well as an elite receiver in Vincent Jackson. The Bucs also improved their secondary with Dashon Goldson and Darrelle Revis so Steve Smith will be contained.
vs Atlanta-L: Again the secondary lets down the Panthers as Roddy White and Julio Jones make Carolina look silly, going for over 120 yards and 2TDs each.
@ San Francisco-L: In a game of read option galore, the Niners win out, making enough stops against Cam to seal the deal.
vs New England- W: The five game losing streak ends here as the Panthers make huge strides in beating the New England Patriots on their home turf, proving why they are on the rise. Cam Newton should have a big game as the Patriots ranked 29th in passing defense last year.
@ Miami- W: Mike Wallace will be open, but Ryan Tannehill is not good enough to get it to him as the Jake Long less Dolphins struggle to defend the pass rush.
vs Tampa Bay-W: The Panthers also get to Josh Freeman and the defense will clamp down on Doug Martin, giving the Panthers a nice inner divisional win.
@ New Orleans-L: Drew Brees slices up the Panthers secondary and the offense won't be able to respond.
vs New York Jets-W: Cam Newton is exponentially better than Geno Smith or Mark Sanchez and the Panthers win easily.
vs New Orleans-W: Kenjon Barner has a big game, exploiting the 32nd ranked run defense in the league and Cam Newton shows out as well.
@ Atlanta-L: In Cam's homecoming game, he plays well but the Panthers can't contain any of the Falcons' offensive weapons and the season ends on a sour note.
Conclusion:
The Panthers have talent on both sides of the ball but they need to significantly improve their weaknesses in order to become a playoff team.
Stats from ESPN