By: Evan
Projected Record: 12-4
NFC South Rank: 1st
After two disappointing playoff appearances in 2010 and 2011, the Falcons showed impressive maturity and growth in 2012, beating a tough Seattle team 30-28.  This year, the Dirty Birds want to go all the way to the Super Bowl in New York. This year the Falcons have made some significant upgrades at crucial positions to help solidify their squad. The two most important upgrades are Steven Jackson and Osi Umenyiora, two established veterans who will provide experience and talent on both sides of the ball. The Falcons ranked 29th in total rushing and Jackson brings eight straight 1,000 rushing seasons as well as a reliable red zone threat. Jackson is also strong and will be another option for Matt Ryan in the short passing game. Osi Umenyiora, the second piece of Atlanta's most significant upgrades in the offseason, will help the pass rush but not on every down as Umenyiora has trouble stopping and containing the run. The Falcons ranked 28th in sacks last year and with Umenyiora that ranking should improve.  The Falcons never really relied on their defense to win games, but the pass rush needed to be addressed.  Now lets look at why the Falcons should win the division and thirteen games this season.
Strengths:
QB and Skill Position Players
The Falcons were huge winners this offseason re-signing Matt Ryan to a massive five year $104 million dollar deal with $ 59 million guaranteed.  Although this might be a little much for a non-Super Bowl winning QB, franchise quarterbacks don't grow on trees and the Falcons seem to be confident in Ryan's abilities.  All-pro WRs Julio Jones and Roddy White, and soon to-be HOF TE Tony Gonzalez are key to Ryan's success.  With the addition of the aforementioned Steven Jackson, the Falcons should rank in the top five in terms of total offense and yards per game. The Falcons reek havoc on opposing secondaries, forcing teams to spread out their defenses and essentially pick their own poison.  Roddy White and Julio Jones ranked 9th and 11th respectively in receiving yards last year, and with the growth of Matt Ryan, those rankings should climb with the potential for two top ten WRs.  After  numerous debates about whether to retire, Tony Gonzalez decided to come back for one last chance at a Super Bowl.  Tony is a security blanket for Matt Ryan as he caught 93 balls last year, which ranked 9th in the NFL. This Falcons' offense will be scary for defenses, but fun to watch for fans.  The Falcons will put points on the board.
Weakness:
Defense (Both Passing and Rushing):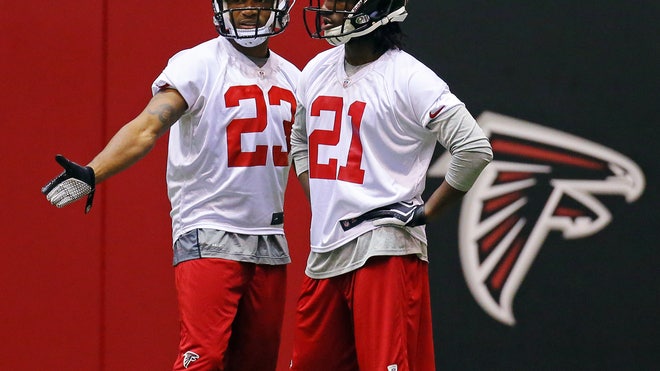 The Falcons tried to fix their defense this offseason by signing Osi Umenyiora and drafting  CBs Desmond Trufant from the University of Washington and Robert Alford from Southeastern Louisiana. Both Trufant and Alford will have to step up immediately against a tough NFC South with Drew Brees, Cam Newton and Josh Freeman for the Falcons to succeed. The Falcons ranked 23th in passing defense in 2012, giving up an absurd 242 passing yards per game. Many people know that this is the Falcons' achilles heel and could end up costing them in the playoffs, when they might have to deal with other potent offenses such as Green Bay, San Francisco or Washington.
The Falcons also struggle with run defense as they ranked 29th in yards per attempt with 4.8, almost a first down on every two rushes. Although the NFC South does not have as many good runners as quarterbacks, this will still a problem against playoff teams with mobile QBs and tough runners, like Seattle, San Francisco and Washington.
Schedule Analysis:
@ New Orleans- L: In a complete shootout, New Orleans is fired up after Sean Payton returns and Brees puts up over 400 yards passing
vs. St. Louis- W: The Falcons should easily win their home opener against the Rams, but the game ends up being closer than advertised.
@ Miami- W: Mike Wallace is good, but Julio Jones and Roddy White are better and Matt Ryan will clearly outmatch the sophomore QB Ryan Tannehill
vs New England- W: If they win, this will be a huge victory for the Falcons' confidence, Matt Ryan needs to step up in a big regular season game and this one will be it.
vs New York Jets- W: No Revis, No true QB, No True Offensive Weapons. No problem. Easy rout win and maybe the loss that gets Rex Ryan fired
Week 6 Bye
vs Tampa Bay- W: The Bucs significantly improved their passing defense, with Darrelle Revis and Dashon Goldson but nobody can stop Julio Jones, Tony Gonzalez, Roddy White and Steven Jackson.
@ Arizona- W: Watch out for this game, the Cardinals have a young and hungry secondary led by Patrick Peterson and Tyrann Mathieu, they will win but it will be close
@ Carolina- W: The Falcons have struggled against Cam Newton in the past, but Atlanta's offense will save them once again
vs Seattle- L: In a rematch from the playoffs from last year, the Seahawks will be furious and come in and silence the Georgia Dome. Richard Sherman and the stout Seattle D will stymie the Falcons' O and exact revenge.
@ Tampa Bay- W: Coming off a tough loss, the Falcons will be ready to go and will leave Revis Island with a victory.
vs New Orleans- W: The Falcons will defend home turf against NO and avenge their season opening loss.
@ Buffalo- W: Weather might play a factor, but Matt Ryan went to Boston College and played in the snow so this should be a win
@ Green Bay- W: In a match-up of top ten quarterbacks, Rodgers will slightly outplay Ryan but Ryan has more weapons and the Falcons will sneak out with a win
vs Washington- L: This is the game where the Falcons get exposed as RG3 rushes for over 150 yards for 2 TDs and throws 2 TDs as well.
@ San Francisco- L: Colin Kapernick will too thrive against a weak Falcons' D and pick up over 100 yards while throwing for 300 as the Falcons suffer consecutive losses for the first time this year.
vs Carolina- W: Cam comes home to Georgia and puts on a show, but the Panthers continue to struggle to stop the Dirty Birds and lose again.
Conclusion:
The Falcons will make the playoffs, but their defense is worrisome, and until those defensive rankings improve, I am skeptical of the Falcons to advance far even with their potent offense.