By: Evan
The USA Basketball team will face a serious remodeling and rebuilding in the next two years under Jerry Colangelo. Although Coach K is returning for an opportunity to win his third gold,  the future is far from certain. Coach K will have to adjust to new players that are younger and less experienced than the veteran core such as LeBron James, Kobe Bryant, Deron Williams, and Carmelo Anthony. Despite the fact that Chris Paul, Kevin Love and Kevin Durant have committed to return in 2016, a significant part of the team will be exposed to the international game for the first time. Team USA is potentially looking at 6 or 7 changes to the roster and the loss of great leadership from LeBron James and Kobe Bryant that is invaluable when playing savvy international squads. Let's look at some viable options for the roster in 2016.
Point Guards:
Chris Paul: After Coach K committed to another run at gold, Chris Paul seems to be committed as well. This might be more important than Coach K's return especially due to the fact that this the team will be void of real leadership. Chris Paul has always played well in the international game and is a defensive menace for opposing point guards. Hopefully Chris will grow as a leader for the Clippers and this development will carry over into the Olympics.  Chris will play a role similar to Jason Kidd in 2008, primarily a leader,  and secondarily, a scorer and defender.
Derrick Rose: Derrick Rose was a lock to be on the 2012 Olympic team before he tore his ACL in the NBA playoffs and now he will get his chance at Olympic gold. Derrick will only be 27 by 2016 and his game will return to superstar status as one of the elite athletes in the game. Derrick has some international experience, playing in the 2010 World Championships and he will cause havoc for the international opposition with his speed and agility.  Derrick's jump shot has improved, making him an even more deadly weapon for the USA team.
Kyrie Irving: By 2016, Kyrie Irving will be the best point guard in the NBA and the most complete player on the Olympic roster. Kyrie possesses innate basketball feel and is a ruthless competitor (see his challenge to Kobe Bryant in 2012) who will take over and be one of the key faces of USA Basketball. Kyrie will be 24 by the time the Olympics arrive and will not be at his peak by that time.   Kyrie can do anything on the court and can be an all-time great guard. Kyrie along with Kevin Durant, will be the faces of USA Basketball.
Russell Westbrook: Russell Westbrook, like Derrick Rose, is an off the chart athlete with room to grow. Westbrook has prior Olympic experience and although he did not play much, he was always a threat coming off the bench providing defensive toughness and speed. In 2016, Westbrook will need to score more as the team will be void of the 2012 team's elite scoring prowess. The USA's best weapon is its athleticism at all positions and Westbrook will be a integral member of the 2016 squad.
Shooting Guards:
James Harden: Harden exploded this season in his starting role and emerged as one of the elite players in the NBA. Harden can shoot the lights out and will have to play with a more aggressive mentality in the Olympics. Harden has a game that is ideal for international play and will make life difficult for the opposition. Harden's role as the star of the Houston Rockets will help him develop the edge that makes great leaders.
Klay Thompson:  Some may argue Klay Thompson shouldn't be on this list, but Klay will play a pivotal role as the spot up 3 point shooter for the 2016 squad. The 2012 team didn't have a great 3 point shooter, which was over shadowed by the sheer talent on that team.   Klay will come off the bench and provide instant offense for the 2016 squad.   Klay Thompson is rapidly ascending as one of the best 2 guards in the NBA.
Small Forwards:
Kevin Durant: This is a no brainer. KD is a star of the highest order and will also have to become a better leader in 2016. KD will obviously have to score in order for the USA to win gold and Jerry Colangelo has already states KD will be "The Face of USA Basketball". As Kevin grows and becomes more and more efficient, the better off team USA will be. Hopefully KD stays healthy and locks in on winning.
Paul George: Paul George became a household name this year, winning the Most Improved Player award and carrying the Pacers to the Eastern Conference Finals. Paul is already an elite defender and  has an ever evolving offensive game which utilizes his athleticism. George will probably play a role similar to Andre Iguodala's on the 2012 team, shutting down the opposition's best wing player.
Kenneth Faried: Kenneth Faried will be a high energy player, defensive stopper and prolific rebounder for team USA. Coach K and Jerry Colangelo have raved about Faried and his intensity. Faried needs to become a better free throw shooter so he can play late in games, but he could be the Tyson Chandler type player for 2016. Watch out for the Manimal in 2016.
Power Forwards: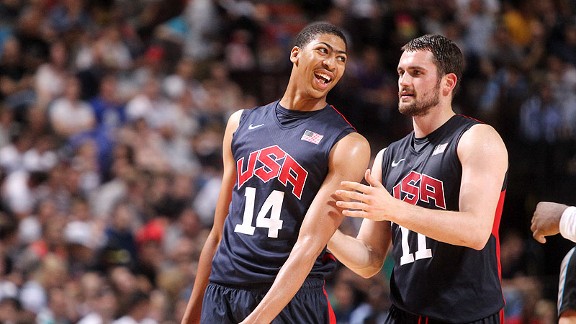 Kevin Love: Kevin Love has the game best fit for the Olympics, playing a stretch 4 who can also rebound and pass. Love did not have a big role on 2012 team but look for him to shine in 2016. Love will bring experience and a stable presence in the locker room. which will be key for the younger players. Love is one of the best power forwards in the game and he should lead the T-Wolves into the playoffs while earning multiple All-star appearances between now and 2016.
Anthony Davis: Anthony Davis will only be 23 by the time the Olympics roll around in 2016, but he also brings experience from 2012. Everybody knows AD is tremendous defender with long lanky arms and a high motor, but the element of AD's game that is most impressive is his ability to knock down 15 to 20 foot jumpers and even the occasional 3 point ball. He is starting to remind many why he was selected #1 overall and earned KG/Tim Duncan comparisons. He dominated the latest USA exhibition game with 22 points on 10 of 13 shooting with 7 boards in only 23 minutes. Davis should be a lock for 2016.
Center:
DeMarcus Cousins: DeMarcus Cousins is a beast with an extremely high ceiling that could make him the best center in the league in 2016 (which is not saying much) but Cousins has had maturity issues that have stunted his development.  The turmoil in Sacramento may not have helped but this is a concern.   Hopefully Cousins will bring a positive attitude to team USA and show the world his talent and ability.  Cousins is a true post player who can also step out and make jumpers which is key to the international game. If Cousins can get his act together, watch out international centers because he is a handful.
Snubs or Potential Alternates
LeBron James and Carmelo Anthony: Obviously if either decide to come back for a fourth Olympic try, he will make the roster and provide scoring and even more leadership for 2016.  If one decides to come back, many believe so will the other as the two have a great relationship.
Deron Williams:  DWill is a star when he wants to be and maybe he comes back for 2016 to win a third gold.  Deron would be behind a few younger and better players in the depth chart, but maybe Jerry Colangelo brings him back due to his experience.
John Wall:  If any point guard drops out of the Olympics 2016, Wall would be a likely pick. Wall is extremely athletic but he needs to improve his jumpshot if he wants to play for Team USA.
Stephen Curry:  If Steph stays healthy and his ankle holds up, he would be a great alternate for Team USA.  Steph is obviously one of the best shooters in the NBA , and would provide a reliable long-range threat from either guard spot.
Chandler Parsons:  Parsons is a poor man's Paul George, a complete game but without PG's athleticism.  Parsons is a reliable player who can defend and knock down shots.
Andre Drummond: Drummond has the potential to be Dwight Howard, minus the publicity nightmares.  But unfortunately both are plagued by poor free throw shooting, and Drummond needs to improve in this facet of the game.
Dwight Howard: Dwight will be 31 by 2016 and he could also become a free agent so the chance of a return in 2016 seems unlikely. But, hey, nobody knows what Dwight will do.