By: Evan
All-Star break is baseball's showcase, a mid-season celebration of the game's top talent.  The Homerun Derby is fun and the All-Star game displays great players at every position.  Yet the All-Star game is the second most important game of the festivities, often marred by nostalgia, with some players past their prime usually featured prominently.  For my money, the vastly underrated Futures Game is the one to watch. The Futures game does not attract widespread attention because the players are not household names yet.  But in reality, the Futures game previews the best young talent in the game, the players whose jerseys will be selling soon. Look at the members from the 2011 US Futures' team roster; Matt Harvey, an All-Star and potential Cy Young winner, Shelby Miller, a contender for NL Rookie of the Year, Matt Moore, an All-Star, Manny Machado, an All-Star and Gold glover in the making, Paul Goldschmidt, an All-Star and contender for NL MVP, Bryce Harper, a two-time All-Star and the then injured Mike Trout, the best five-tool player in the league right now. Not only are these Futures Game alums young, all 25 or under, they are dominating and will continue to get better.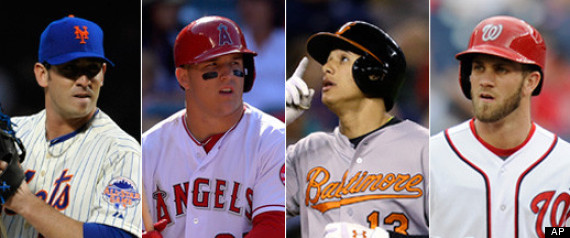 Now, looking to this year's game, who are the rising stars of the game?
5.) Taijuan Walker SP Seattle Mariners
Taijuan, or Tai Walker looks to be the next great Seattle ace, just like Randy Johnson and Felix Hernandez. Tai has great stuff, boasting a mid 90s fastball with a devastating change-up that makes his fastball look even faster. He is using the minor leagues to develop his slider as well as a curveball to compliment his two dominant pitches. Tai is tall and long, standing at 6'4 with arm action that can trick hitters who are looking for fastballs. The Mariners have been known for their tremendous farm system and their development of pitchers and Taijuan looks to be next in line. While Tai has all the ability, he still needs experience at the AAA level and with the Mariners falling further and further back in the AL West, Tai probably won't make his debut until 2014.
4.) Xander Bogaerts SS/3B Boston Red Sox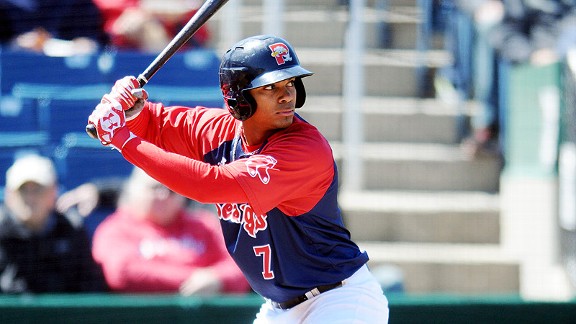 Xander Bogaerts reminds me of another 20 year old, Manny Machado. The two are extremely similar, in height, weight and ability as both are natural shortstops who are now playing third-base. Xander has the power to hit 20-25 home runs per year and potentially drive in over 100 runs. While Manny is a better defender, Xander will use his time in the minor leagues to improve his defense and display his overall talent. Boston is also known for its great farm system as they have developed another terrific third baseman in Hanley Ramirez.  If Boston wants to remain as the AL East leader by the playoffs, Xander should be called up by August or September.
3.) Jorge Soler OF Chicago Cubs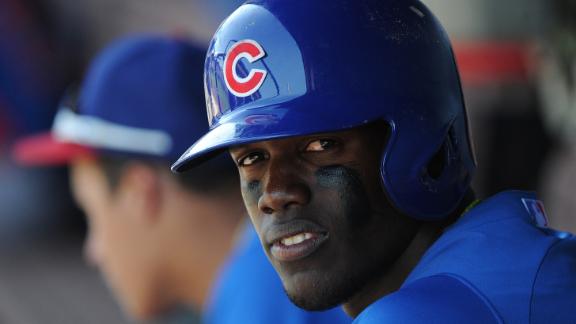 Cub fans have been the proverbial butt of every losing joke known to man. But don't worry Cub fans, at least you get to chant "Hip-Hip Jorge." Jorge Soler is a dangerous outfielder with power and a cannon for an arm. He has to potential to be a regular 30-30 or 40-40 player with his speed, but he needs to improve his ability to make contact so he can get on base at a higher percentage. He reminds me of a smaller version of fellow Cuban, Yasiel Puig, an extremely talented but raw prospect with a sky-high ceiling. The Cubbies have locked up Soler with a 9 year 30 million dollar deal that could make him one of the most price efficient players in the league. The Cubs are not in contention to win anything and Soler still needs time to develop and learn so his debut may not come until late into the 2014 season or the start of 2015 season.
2.) Miguel Sano 3B Minnesota Twins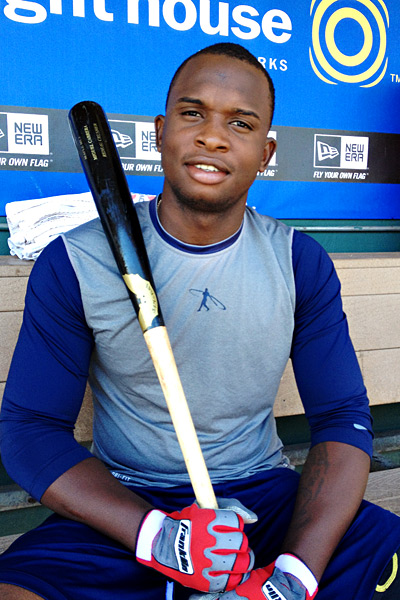 The Twins have the best farm system in baseball and Sano is going to crucial in the Twins' rebuilding process. Sano reminds me of another Jose Bautista, a player with ridiculous power and an overwhelming presence at the plate. Sano desperately needs to hone in on his defensive play and become a smarter base-runner but all of the tools are there. The Twins are known to slowly develop players who eventually become stars, David Ortiz (although how could they use Ortiz to bunt men over into scoring position???), Justin Morneau and Joe Mauer. Sano's future is very bright and the Twins will rebound in coming years.
1.) Byron Buxton OF Minnesota Twins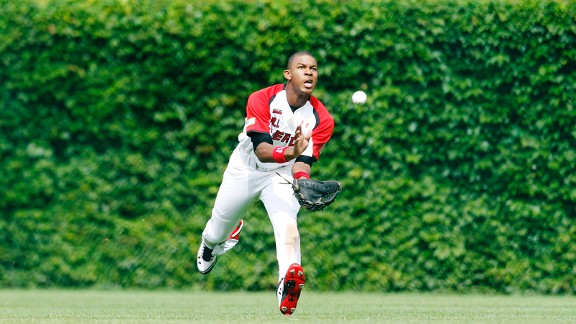 Remember the name Byron Buxton because he is THE future of baseball. He has earned Mike Trout and even Willie Mays comparisons. Buxton has it all, all five tools that enable him to be the most complete prospect in baseball. Scouts are amazed by his maturity and dedication along with his talent. The #2 overall pick in 2012 MLB draft just needs time to hone in on the smaller facets of his game that need improvement, such as learning how to play all three outfield positions and improve his batter's eye. Buxton will probably stay in the minors until 2015, but when he comes up he will be phenomenal.
First picture from Huffpost.com Every other picture from espn.com