By: Evan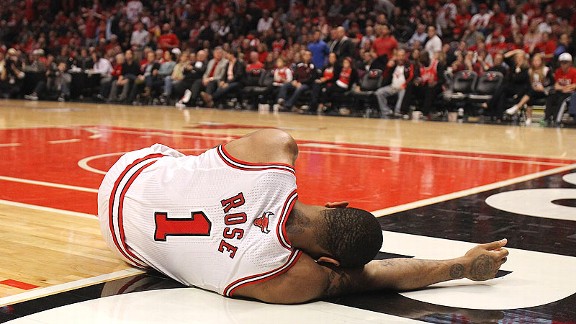 For Chicago Bulls fans the 2012-2013 season was a roller coaster ride full of excitement and disappointment. We saw the emergence of Jimmy Butler and Nate Robinson but also the various injuries suffered by Joakim Noah and Luol Deng. We ended the Heat's win streak but lost the 4th seed. We beat the Nets in a great seven game series but lost to the Heat in a depressing fashion. All of these things were entirely overshadowed by Derrick Rose's rehab throughout the season. People speculated on his return some saying after the All-Star break and some saying the playoffs and some ignorant fans said maybe never? The fans were tantalized during Derrick's pre-game warmups trying to gauge the former MVP's comfort level on the court. We saw him flash to rim like his old self, only to hear "When I'm ready". Many fans were upset with the sporadic dialogue between Derrick and the media, feeling as if Derrick betrayed was just biding his time and earning his money. They were upset with the Adidas commercials "The Return", falling into the inevitable belief that Derrick would magically recover and things would be normal again. And they were dead wrong. These fans drove me crazy with their constant complaining and whining, making Derrick out to be a villain when really Derrick was doing what was best for his team and himself. Rose is the face of the franchise, a hometown kid who has lived in Chicago for every year of his life except for his college days in Memphis. He grew up in the Jordan era, watching his idol don the same white and red jersey he would wear years later. He knew the pressure that was put on him as the #1 pick in the 2008 draft as a mere 19 year old. These wavering fans must forget his first year where he led the Bulls to a seven game series against the defending champion Celtics, not to mention tying the record for most points scored by a rookie in his playoff debut with 36. They must forget his second year where he made the All-Star team, the first Bull since MJ in 1998.
They must have also forgotten his pre-season promise to win the MVP in 2010-2011, which he accomplished with career best in points, assists, steals, 3pt percentage and free throw percentage. At 22 he was the youngest player ever to win MVP. All the greats before him, Russell, Wilt, Kareem, Magic, Larry and Chicago's own Michael Jordan never achieved what Derrick did. He has improved every single year in his short career, yet few people seem to notice. Derrick knew that coming back before he was ready would disappoint the fans and his teammates, but most importantly he knew he would disappoint himself. His expectations exceed any random fan's and he believes he can carry his team to a title, just like I do. I know that Derrick is giving every ounce of his energy and effort to help the Bulls achieve their goals and become great. And that is why the Bulls will win the championship next year.
All year long the Bulls struggled mightily to score the ball, using offensive rebounds to generate most of their offense. With Derrick and his improved jump shot the Bulls now have a shot creator, who can allow players like Luol Deng and Jimmy Butler play their true roles as spot up or one dribble shooters. Now Carlos Boozer can thrive off pick and rolls and stretch the defensive, creating room for Derrick to penetrate and kick or penetrate and finish at the rim. Derrick's return also helps out Kirk Hinrich who will no longer have to play starters minutes and can now lead the bench players. But the most important part of Derrick's return is his presence. The Bulls now have their captain back, their leader, their engine who makes them go. Derrick has an uncanny ability to inspire his teammates and motivate them to play the best they possibly can. The Bulls defense already goes unquestioned but now with Derrick, opposing guards have to worry about Derrick lighting quick speed and how they can get around him. With all the current pieces the Bulls are poised for a championship run. Now all Bulls fans have to do is wait and watch, again.
First Picture and Stats from ESPN